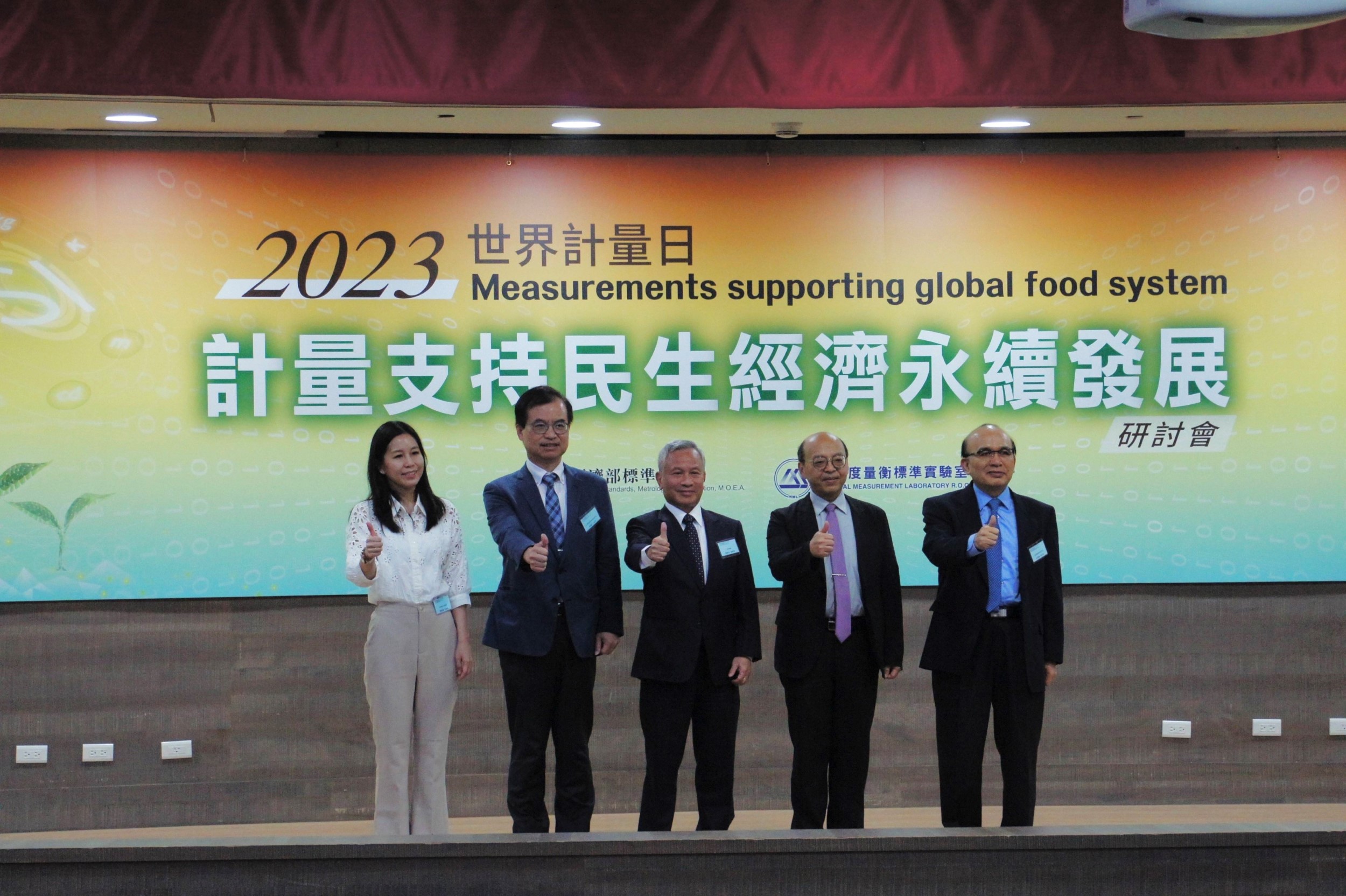 For 2023 World Metrology Day , the Bureau of Standards, Metrology and Inspection, Ministry of Economic Affairs (BSMI/MOEA) organized the "2023 World Metrology Day - Measurements Supporting Sustainable Development of the Economy and Livelihood " workshop in Taipei on May 19th which responds to the annual theme of "Measurements supporting global food system" announced by the International Bureau of Weights and Measures (BIPM). The workshop highlighted the important role of metrology in the sustainable development of the economy and livelihood, with three experts giving speeches on specific topics: "Measurements supporting food systems", "Measurements supporting new energy foundation", and "Measurements supporting zero-waste manufacturing". It attracted 150 experts from various fields, including industry, government, and academia. Through discussions and exchanges among the participants, the workshop was successfully concluded.
J. J. Lai, Deputy Director-General of BSMI/MOEA, introduced that World Metrology Day is an annual celebration of the signature of the Metre Convention on 20 May 1875 by representatives of seventeen nations. The Convention set the framework for global collaboration in the science of measurement and in its industrial, commercial, and societal applications. The original aim of the Metre Convention – the world-wide uniformity of measurement – remains as important today as it was in 1875. The theme for World Metrology Day 2023 is "Measurements supporting global food systems", which highlights the close links between metrology and livelihoods. Through the discussion and exchanges at the workshop, it is hoped that cross-domain creative sparks can be ignited to solve the challenges of sustainable development, such as food shortages.
Deputy Director-General Lai further explained that extreme weather threatens fragile food supply chains. Strategic climate-smart approaches for fisheries and aquaculture are strongly needed to overcome the climate impacts of food production. Developing emerging green energy and carbon-negative technologies are the ways to achieve net-zero carbon emissions.
The keynote speaker, G.K Chen, Chairman of Sunny Rich Group, was invited to share his experience on the topic of "food & green electricity - metrology in promoting net-zero sustainability". Sunny Rich Group leads the development of indoor fishery-electricity symbiosis aquaculture park. The composite pattern combines "large-scale green energy facilities" and "AI-based technical aquaculture", leading the traditional aquaculture industry to upgrade and create the outstanding technological aquaculture paradigm. Besides, Professor Chung-jen Tseng, Director, Center for Energy Research of National Central University, gave his talk on "Hydrogen Energy Technology and Net-Zero". He introduced the domestic research results of hydrogen energy and fuel cells and analyzed the direction of the new energy development in Taiwan. In addition, Y. Y. Huang, Chairman of the Taiwan Digital Enterprise Alliance, gave her talk on "Zero-carbon Smart Manufacturing Future and Co-creation of Infinite Wonderfulness". Chairmen Huang introduced how she led Taichung Precision Machinery to successfully deploy zero-carbon transformation, promote brand reengineering, and assist enterprises to develop zero-carbon transformation and upgrading.
Facing the challenges of global warming and extreme weather, sustainable development goals of energy conservation and carbon reduction have been adopted as a universal call. Today, we share relevant applications of measurement technology in various fields, aiming to join hands with experts in the field of metrology to create new opportunities for sustainable development.