Story about Weights & Measures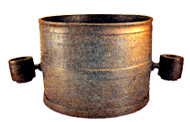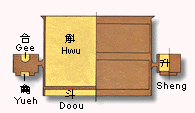 Shin Maang Jia-Liang is an ancient measurement standard for volume. It is made by Emperor Maang Wang in 9 A.D. when the Shin dynasty was established. Several duplicates were distributed as an official standard all over China. It is believed that the only existing Shin Maang Jia-Liang is maintained at the National Palace Museum in Taipei.
Shin Maang Jia-Liang composes of 5 standards, namely, Hwu, Doou, Sheng, Gee, and Yueh. The capacity relations among them are : 1 Hwu equals to 10 Doous, 1 Doou equals to 10 Shengs, 1 Sheng equals to 10 Gees, and 1 Gee equals to 2 Yuehs.